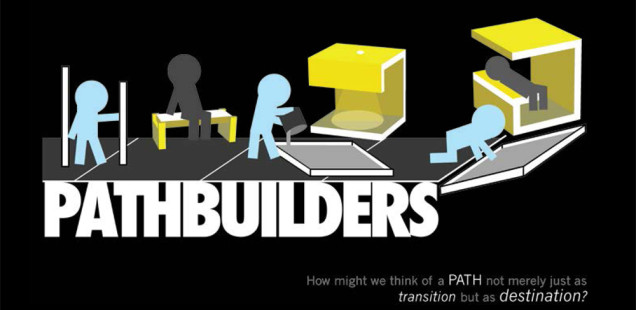 Path Builders
On a daily basis, we all have to get from one place to another, whether thats from home to school or work, or to the grocery store, visiting friends or family. This is daily event where we're more focused on the destination then the actual journey.
What if you have to do this without the luxuries that you are used to?
No car to get to your destination in a convenient amount of time? or heat in the winter? When you remove these things that we view as necessities your focus shifts from the destination to the actual journey and what you must do to get to where you're going.
As new ambassadors in the Brighmoor community for Nick Tobier's Change by Design course at Detroit Community High School, we took a walking tour of the community where we observed the lack of public infrastructure on the community streets of Brightmoor.
We found ourselves as well as other people in the community walking in the middle of the street to avoid debris on the side of the road and then quickly running to the side of the road every time we heard an approaching car.
A couple weeks into our time at Detroit Community High School, we observed a class being led out of their classroom through a back area of school where these students jumped from cardboard plank to dry patches in order to avoid large puddles and patches of mud.
We observed this lack of urban infrastructure in the larger context of the Brightmoor community and then saw an area to intervene on smaller scale behind the school. As Pathbuilders, we look to address the issues of public sidewalks in Brightmoor which are vital to interactions, accessibility, and safety within the Brightmoor community.
DCH students are the catalyst and community leaders of Pathbuilders. They have autonomy in their own community where they have the opportunity to empower the Brightmoor community and envision the change and interventions that they want to see. Pathbuilders is merely the organizational structure that allows them to do this.
Once the "how" is no longer the concern, we can look to reinvent the functionality of these
sidewalks, not only as a connection between places but as the destination that the community engages with.
Download Path Builders full project report here