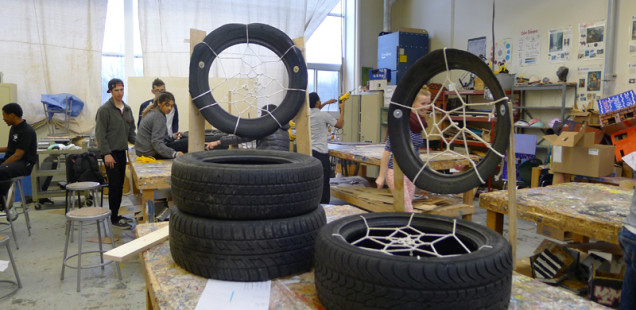 ReSource
RESOURCE – Dream Catcher Chair
A project by Elise Machiele, Cameron Watson, Morgan Princing, and Savannah Micunek in Detroit Connections: Change by Design
ReSource builds furniture using discarded materials in the Brightmoor neighborhood of Detroit, bringing together Detroit Community High School students and community resources in Brightmoor.
Discarded materials such as tires can be a huge contributor to urban blight. Utilizing these resources in product development provides a use for otherwise discarded materials and an incentive for blight clean-up.
Our first ReSource design is the Dream Catcher Chair. Building a Dream Catcher Chair is a process of learning by doing. It's an exploration of what the materials can do, and learning what you yourself can accomplish. Materials include two tires, about 30 feet of rope, two planks of wood, and eight sets of nuts, 1.5" long bolts, and washers (2 per bolt). Tools include a power drill with a 3/8" drill bit, a utility knife, and a screwdriver.