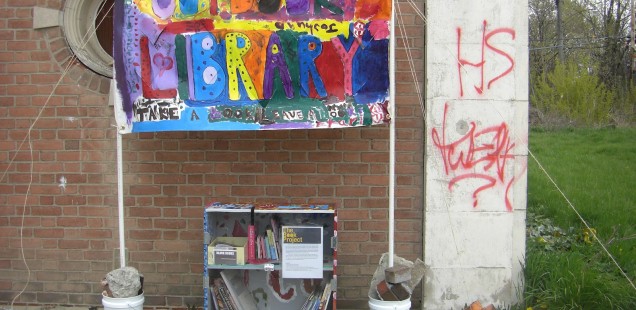 The Outdoor Library Project
Countless families have been affected by numerous library closings in the city of Detroit, an invaluable resource in a community. Many people find hope in the presence of a library, where their children can learn and satisfy their curiosities in a positive environment. Others who do not own computers rely on their library's computers to conduct everyday business. Most importantly, libraries are not just rooms full of books, but collections of knowledge.
Detroit Connections worked closely with children from Marcus Garvey Academy in an effort to to raise public awareness of our closed libraries.
University of Michigan students worked on designing and building bookshelves to place outside, near each of the closed library branches in the city while the 4th grade students worked hard to paint and embellish the bookshelves – and to write, illustrate, and bind their own books, which were placed on the shelves among other donated books. Over the course of about 6 weeks, the 4th graders developed their characters, setting, and plot with awesome results.
Learn more about the project: Library Journal: Outdoor Libraries Honor Detroit's Closed Branches